Last Friday, Ubisoft gave us a first look at the latest entry of its first-person open-world franchise, Far Cry 6. This latest entry in the series is set in the fictional Caribbean country of Yara where a ragtag resistance is fighting for independence against a power-drunk dictator, Anton Castillo. With the resistance facing overwhelming odds and a severe lack of supplies, they use everything and anything as weapons to fight Castillo and his military— including apparently a Macarena Gun?!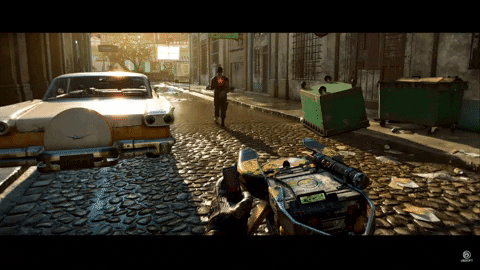 Ay!
That's right, in Far Cry 6 there's a makeshift disc launcher that fires out deadly CDs at your foes eviscerating them while it belts out the classic 1993 Los Del Rio dance hit, Macarena. 
We have SO MANY questions. 
First off, why has the gaming industry only taken until now to finally give the Macarena its respect and reverence that it so greatly deserves? Secondly, will there be other 90s-00s hits in the mix? Is it safe to expect The Ketchup Song? DLC perhaps? Thirdly, why does the guard not turn around when he hears the gun? Is the Macarena constantly playing in the streets of Yara that people are desensitized to it? Inquiring minds want to know!
While the Macarena Gun is certainly the best thing we've seen coming into Far Cry 6, the trailer that premiered on Friday evening showcased a whole lot to be excited about. The game feels like a return to its roots, throwing back to its earlier games with a harsh, untamed tropical landscape with themes of oppression, rebellion, and rising up against a tyrannical warlord.
There's also a lot of other crazy creations whipped up by the game's guerilla mad scientist, Juan Cortez played by Alex Fernandez (True Detective, American Crime Story).
This includes Flamethrower cars;


a Gatling Gun made out of a motorcycle engine;
Guns made of batteries, sardine cans and power tools;



Weaponized backpacks, called Supremos that let you fly and fire missiles from your back; 



Give you a vertical boost;
and wield powerful anti-aircraft weapons
And even a little wheelchair, for this cute pupper!
Watch the full trailer below!




Far Cry 6 is set to release on Amazon Luna, Microsoft Windows, PlayStation 4, PlayStation 5, Xbox One, Xbox Series X/S, and Stadia on October 7, 2021.
Now Reading: Excuse Me, Far Cry 6, Was That A Macarena Gun?