Sometimes, you need a break from too realistic graphics and action-packed zombie killings. Weary gamers will find comfort in a  game that functions more like a visual novel. Less gun slinging and chain spell casting, more mundane tasks like shopping trinkets for your apartment. Or maybe even mixing drinks and earning tips in a dank little bar called, "VA-11 HALL-A". If you've played Coffee Talk (one of the popular 2020 visual-novel sims) and loved it, there are more games out there are right up your alley. 
Cyberpunk Bartender Action, released last January 2016 on Windows, and recently on the Nintendo Switch, is one of them. In this game though, you won't be crafting coffee, but its boozier cousin. 
Enter a dystopian nightmare where White Knights roam the streets and terrorize non-compliant humans. Meet a Lilim pop idol who is exceptionally cheerful and grateful, even though she has a stalker fan that brings her breakfast every day. 
Retro Vibes: Graphics and Soundtrack
The cyberpunk aesthetic is visually pleasing for 90s anime, 80s Japanese pop, pixel art, and vaporwave fans like myself. Anime portraits and text-heavy dialogue boxes aside, the neon colors really pop alongside the dark backgrounds of the menu.  
As the bartender, you get to set the mood by completing a playlist before you open up shop. Fun fact: the game composer, Michael Kelly, has stated that Shin Megami Tensei influenced his work. The Second Round album soundtrack sounds like future synth, but it's not an exact match as Kelly tried to imagine how the future might sound like.  
Gameplay that Lifts Your Spirits
The game tells you to get food and drinks to enjoy yourself as soon as you open it up. That's not something you can do for first-person shooters and real-time based RPGs. Players are meant to chill out with this game. Given this, the mechanics are pretty much straight forward. Mix the right amount of fictional ingredients (like Karmotrine and Adelhyde) following a recipe from the left side of your screen. Like Coffee Talk, it's an intended no-brainer and it's part of the charm.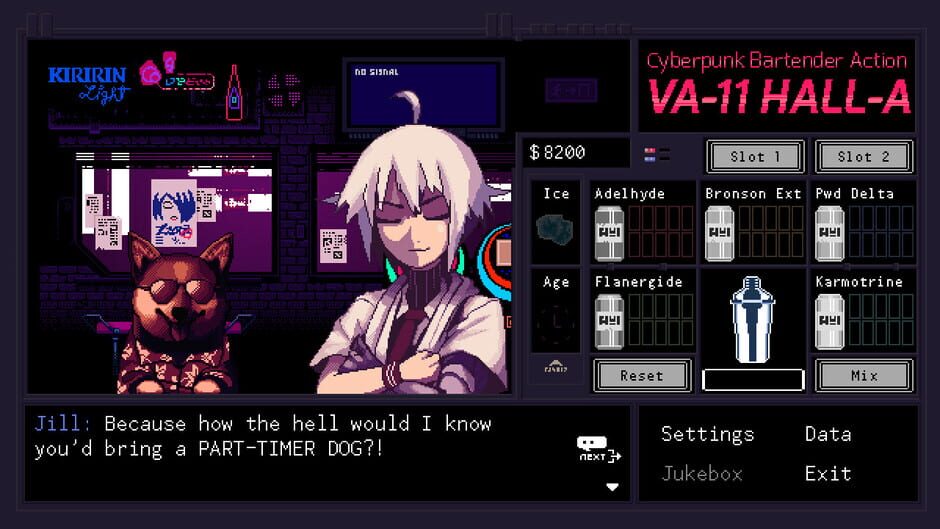 Although you do need to eventually memorize some of the recipes and give the customers drinks that they didn't ask for (but need so badly). You also have a smartphone to view the news, read blogs, shop, and change room decor. The latter activities have an effect on Jill's motivation to work the next day. The most demanding thing it ever asks you to do is: listen (or rather, read all the text). It pays off—literally, Jill gets tipped if she gets the order correctly based on context clues.
If you screw up and don't get paid, you're likely to get evicted from Jill's apartment. However, you cannot choose dialogue options, nor deviate and create new cocktails that aren't from the recipe book. The only way you can influence the nonlinear plot of the game is by—you guessed it—mixing drinks. 
Dark and Edgy Living in Glitch City
The protagonist bartender Jill Stingray is an avid smoker and college graduate. She's definitely more blunt than Coffee Talk's robotic err, polite barista. Unlike Coffee Talk, our female protagonist has a personality of her own. She has a crush on her boss, Dana. She gets mad if you call her by her real name, Julianne, and has a childish sense of humor when it comes to serving drinks with dirty-sounding names.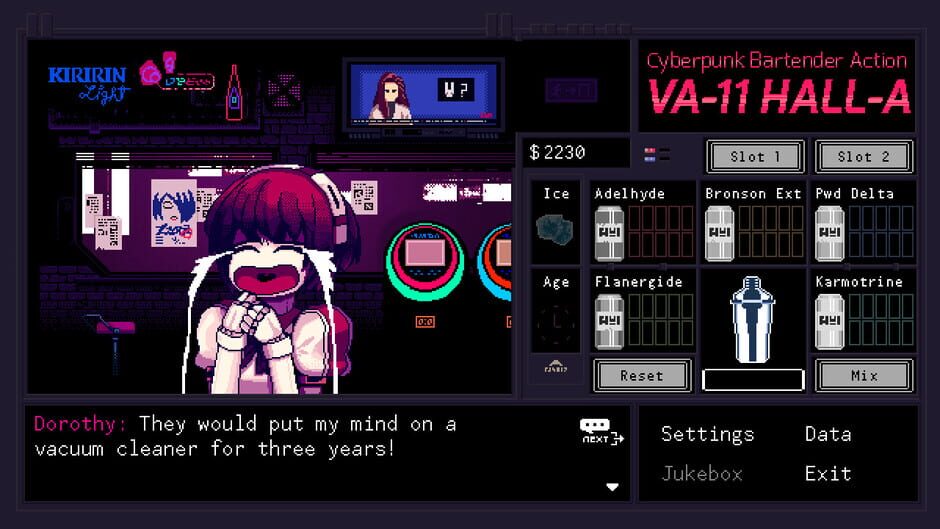 Because she serves drinks, as a bartender, she also serves as an earpiece for eccentric personalities that visit VA-11 HALL-A. The characters are far from stereotypes as they each have their own personal demons to wrestle with. Players get to deep dive into topics like android sex workers, narcissistic streamers (who might remind you of YouTubers), nanomachine infections designed to control all humans, and glorified celebrity hackers. It weaves its way throughout controversial topics without sounding preachy or cliche. The clever storytelling is definitely the highlight of the game.
If you need a virtual escape that doesn't require button mashing and tons of sidequests, Cyberpunk Bartender Action is your best bet. It's meant to be enjoyed in a leisurely manner, just like when you sit back and relax with an ice cold beer at the bar. Play it with a joycon on one hand and a bottle of bubbly champagne on the other. Like Jill says at every start of the night: "Let's mix drinks and change lives." Who knows, your life might really change (or at least, your perspective of it.)
Now Reading: Loved Coffee Talk? Be A Bartender In Cyberpunk Bartender Action