The Diablo Immortal Closed Alpha is currently happening and we're having a blast with our return to the mobile iteration of Sanctuary. One of the biggest new additions to this early access version of the game is the arrival of the Crusader class and with them comes the best skill in the game, Draw and Quarter.
Crusaders get access to Draw and Quarter at level 15, which is a skill that summons a mighty steed for you to ride for 5 seconds and gives them a huge movement speed bonus. The skill also changes your attack into a looping mounted slash that lets you attack while on the move, which isn't something you can normally do in Immortal; making the Crusader one of the only two classes that can do that along with the Demon Hunter.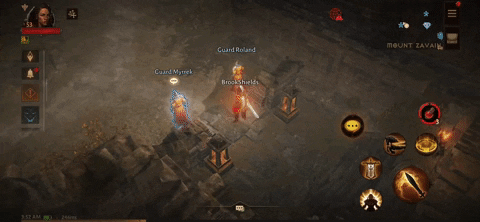 However on top of that, and perhaps coolest of all, when mounted you can chain up enemies that you pass by and drag them along your horse's path, doing damage until the skill ends!
Not only does Horsie Button make traversing the map quicker, but it also makes farming and pulling enemies faster and more efficient. It also synergizes well with the Crusader's skills which are geared towards doing damage in a huge area of effect, perfect for decimating the hordes of the enemies you gather. My favorite weapons of choice so far are: Consecration which forms a holy circle in the ground around you that deals damage to enemies; Condemn which builds up to a massive explosion of holy light; and Holy Banner which summons a divine flag on the ground making 100% of the damage you deal (including your skills) critical dealing 150% of its normal damage.
This makes the Crusader class potentially the most effective class in grinding levels, gathering and killing hordes of monsters at once, all while dripping with dat swag.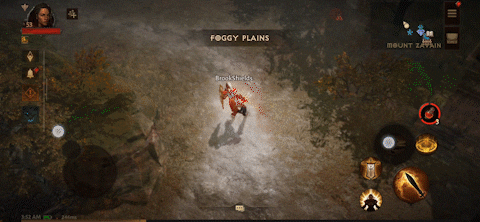 And boy does it make for a cool visual. 
With a fearsome bellowing neigh, your trusty stallion emerges from the aether beneath your feet, and you both ride like the wind through the hellscape. You slash down at the demons that stand in your way, dragging the stragglers behind you with your fiery, glowing chains until you arrive at your destination, a sacred hallowed ground that you've conjured underfoot and a divine explosion erupts obliterating everything around you.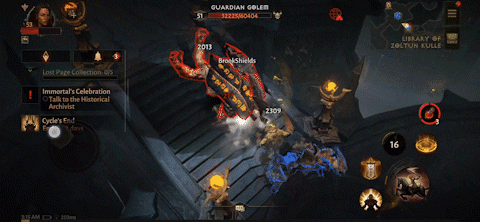 It's imagery right out of the best high fantasy books or a raging metal album.
Thanks to the Crusader and Draw and Quarter we've been massively enjoying our time with the Diablo Immortal Closed Alpha as we make our way through the increased level cap and two additional new Zones and Dungeons. This time around though, the Alpha is focused on more of the PvP and endgame side of things, adding an 8v8 PvP battleground arena, some more features to grind like the Helliquary, as well as an interesting overworld PvP guild battle system called The Cycle of Strife where the top factions of Sanctuary battle it out to reign as Immortals or seek to overthrow them as the Shadows. 
With our Crusader, Brook Shields almost at the endgame herself, we'll have more to report on the Diablo Immortal Closed Alpha once we delve into its deeper dungeon caverns. Thankfully with our faithful horsie, we'll be arriving there in style. 
Now Reading: The Best Skill In Diablo Immortal Is A Horse